"Braća Musemić" Wins the Hearts and Votes of the Audience
The film "Braća Musemić" wins the largest share of votes, scoring 4.89 points.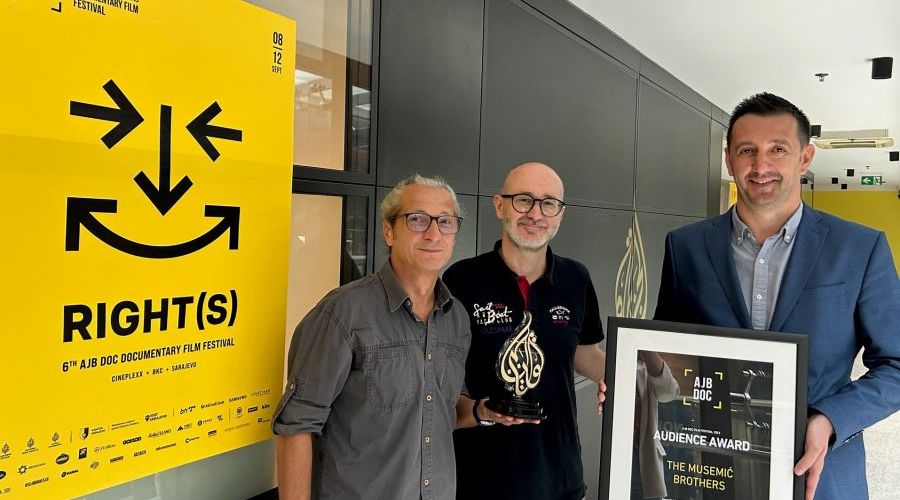 Film with the highest audience rating at the Sixth AJB DOC Film Festival is "Braća Musemić" by the author Edin Isanović and editor Nihad Ušanović.
On the last day of the sixth edition of Al Jazeera Balkans Documentary Film Festival (AJB DOC), held in Sarajevo from 8th to 12th September, the best documentary films were selected and the awards presented. However, the audience votes had to be subsequently counted as all the screened films competed for the Audience Award.
By far the highest number of votes and the score of 4.89 was received by "Braća Musemić", a film from the AJB Presents selection, by local author Edin Isanović and editor Nihad Ušanović, and inspired by brothers Vahidin and Husref – the goalgetters and legends of the Sarajevo Football Club (FK Sarajevo).
"We hereby thank the audience, because the Audience Award is the most important one. We would also like to thank the Musemić family for supporting us during the filming. Also, it was a great pleasure to work with the Al Jazeera team" – said Edin Isanović, a sports journalist and the author.
Editor Nihad Ušanović also thanked the audience and said, "Awards were not on our minds during the filming. Our goal was to show the story of Musemić brothers and their family in a different way. Hopefully, we have succeeded. It was a pleasure to do the film and add to the (sports) archives a story about big athlete stars like the Musemić brothers, because compared to sports reportage, we had a different approach. We obtained materials in documentary manner. These records will remain forever. And we were lucky enough to record the last days of Vahidin's life. It will remain a legacy for generations to come." – concluded Ušanović.
Musemić brothers won the Yugoslavian championship playing for the FK Sarajevo, while their symbiotic relationship with the 'burgundy team' lasted for many years.
The story begins in their hometown of Janja, in the northeast BH region of Semberija, which gave birth to numerous world-famous football players who built great careers, such as Sava Milošević, Admir Smajić and Luka Jović.
This is also a story about their childhood on the banks of Drina and Janja rivers, their talent and commitment to success, about the Semberija region and their inspiration, but most of all about their love for football.
This year's edition of the AJB DOC Film Festival ended with the Audience Award.