AJB DOC 2018 ONLINE
The best documentaries, apart from being broadcast at the Festival, were also shown in the Al Jazeera Balkans program, and are available online in the Balkans region. To view the films click on the documentary title.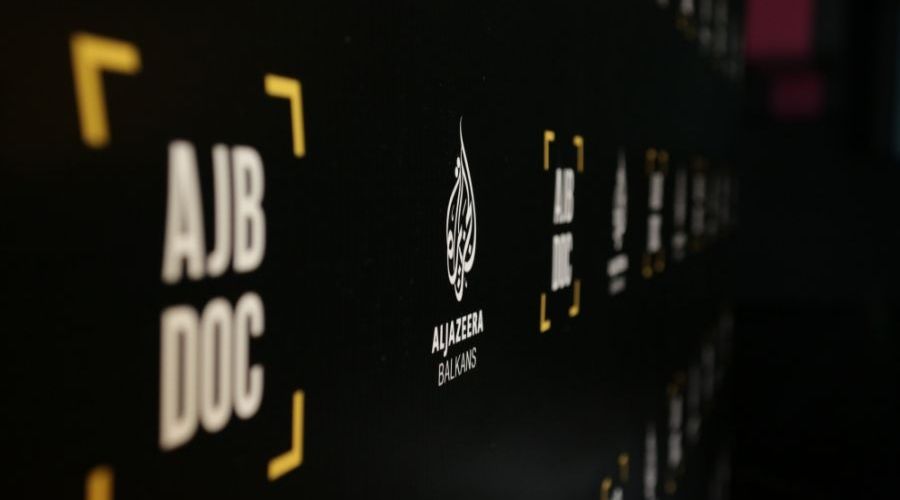 Al Jazeera Balkans Documentary Film Festival audience in 2018 was presented 23 high-quality documentary films with variety of topics, from a story about a man who joins the terrorist group Al-Shabaab and then flees the group, story about growing up in the war-torn Syria and a restrained childhood, to the topic of slavery in European countries and the system's interference in all spheres of life, even in the upbringing of children, as is the case in Norway. In addition to heavy stories, the audience had an opportunity to watch a controversial topic about Serbian mafia that inherited Arkan's legacy, about a quiet world of deaf couples, as well as about journey of a manager fighting the windmills of the communist system...
Nevertheless, there were also documentaries about individuals changing their own worlds and environments, including an emotional story of a boy called Anto who is a single student in his school, a story about "Titan from Mljet" - a man who dug 96 meters long tunnel with his wife, as well as about young people determined to find success and happiness wherever they go.
The best of these stories, apart from being broadcast at the Festival, were also shown in the Al Jazeera Balkans program, and due to the geoblocking option some of them are available online in the Balkans region. This list will be updated periodically.
COMPETITION PROGRAMME
It is the culmination of every refugee story that is supposed to end with official asylum and resettlement in Germany: personal interview with a case officer at a branch of the Federal Office for Migration and Refugees (BAMF). The applicant and the case officer meet on a single occasion. Asylum-seekers have to provide credible proof of their persecution in the home country. BAMF staff are responsible for deciding who stays and who leaves. They rely on the law, common sense and their conscience.
For the first time, BAMF decision-makers in thy asylum proceedings offer us an insight into their day-to-day work and allow viewers to witness the asylum interviews which usually take place behind closed doors. They do their job in the eye of storm of daily media coverage about mass migration and heated debates about the permeability of borders. They have to discern true from false reports and decide who is still allowed to stay in Germany for humanitarian reasons.
An Auschwitz commander's grandson, Rainer Hoess was symbolically adopted by the Holocaust survivor Eva Mozes Kor in 2014. The two, with their specific experiences, are united in the struggle against Neo-Nazism, antisemitism, racism, and xenophobia around the globe. Rainer Hoess broke up the relations with his family and left home at the age of 15, when he found out that his grandfather Rudolf Hoess had been responsible for the industrial extermination of 2.5 million Jews in WWII. At the age of 39, after a stroke, Rainer realizes that he has to deal with his dark heritage and face the horrors of the Holocaust. Eva Mozes Kor explains her relationship with Reiner Hoess: "The fact that he is a grandson of Rudolf Hoess is an ultimate revenge! Rudolf Hoess will not get to enjoy time with his grandson, but I will!"
After 25 years in France, Bojina returns to Bulgaria, with a camera in her hand and vertiginous suspicion: what if my family had collaborated with the secret police of the communist regime? And what if they were a part of the "red trash" that the protesters on the streets want to see removed? She decided to investigate and film a whole thing, ready for anything. Her adventure transforms itself into a tragicomic odyssey, a mix of espionage and a family film.
The former Lada factory, built in the Russian city of Tolyatti in the 1970s, was meant to show the Western world the miracle of Soviet prosperity. The perfect utopia that none dared to doubt. More than four decades later, the plant has been losing billions of rubles every year as it slowly decays. And none dare to touch it. A Swedish power-manager is hired to bring the miracle of the capitalist business model to the dying factory. Bo Inge Andersson, a former soldier, who's already resurrected one Russian automaker, comes to Tolyatti with a small team and a big goal: to be the very first non-Russian at the helm of the company. And none dare to oppose him. Yet. As his fight for the future of the factory starts, the world around him begins to unravel. This larger-than-life Soviet dream has left people of Tolyatti care little for the grand plans of the elites and focus only on day-to-day survival. What will they do as their world is turning upside down?
LAST MINUTE CINEMA PROGRAMME
While leftist ideology conceived by Karl Marx gains popularity around the world, one former socialist block country is torn apart by Communist Party officials and informers. 26 years after the fall of communism, a young Bulgarian woman opens her grandfather's secret police file to unravel the past and find an answer to important question – why had the socialist idea failed so badly. In a semi-mystic dialogue with her late grandfather, she restores the collective memory of two completely different generations.
Dragoslava has four TV sets, three grandchildren, two best friends, and a husband with whom she fights over a remote control. She has lived in five countries, without ever moving from her flat in a small border town. The media and politics creep into the family intimacy, but she reflects about it with humor and determination. Instead of fairy tales, she invents real life stories for the kids, and keeps hoping for a better future. Our every single gesture, from getting up in the morning, is an act of responsibility which brings change to the world.
Aircrafts, tanks, bombs, automatic rifles, media and propaganda were the Homeland War weaponry of choice. Nevertheless, the loudest were the songs. Ones used them to describe the nightmares that befell them, others to confirm their political loyalty. The national TV broadcaster considered music an important form of political 'fight', so they commissioned, financed, recorded and intensely broadcasted it. Event twenty years after the end of the Homeland War, its soundtrack still attracts attention and sparks emotions.
Monuments bear witness to their creators and the times of their origin. Ruined monuments are also a testament, to the times of their destruction and those that destroyed them. They are our history teachers, from their existence we learn about different ages and societies of the past. Between 1945 and 1990, thousands of monuments were built throughout the former Yugoslavia to commemorate the sites where World War II battles had been fought. Many of them were truly valuable artistic pieces. Since 1990s, one half or about three thousand of these monuments in Croatia had been razed to the ground or devastated. This is a story of the masterpieces turned into waste, but also of a society which rejected its history and forsaken its valuable art.
Is it possible for a war criminal to find reconciliation with the past? How do you find your way back to a normal life when you have been convicted of one of the worst crimes – crime against humanity? Esad Landžo has been looking for the answers for years, but in vain. He decides to make one last attempt.
In the autumn of 2015, almost 25 years after the break out of the war, Esad returns to his home and the scene of his crimes in Bosnia. He realizes that this journey is his last chance to let go of his demons and find a peace of mind. He needs to ask for forgiveness from those he betrayed and hurt the most, but also from himself. Without forgiveness, Esad will never be able to find his way back to life. Unlike many other war criminals, Esad admits that he was never forced to commit those crimes, but he did it anyway. He understands that he must face the pain of the survivors, and hopes that he will be able to help them move on. In this film we meet Esad's family, his victims and their relatives.
AJB SCREENING PROGRAMME


Anto is ten; he attends fourth grade of the primary school in the village of Oćevija near Vareš. Has no mobile or internet. He is the only child of that age in the village. Anto has sister who will start first grade in the autumn. He is happy as he will no longer be the only student in the school. Besides, the school will no longer work for just one student, nor will anyone come in Oćevija following the story about a school at the foot of the mountain Zvijezda attended by only one student.
Documentary film "Disappearing" speaks of human dignity, (in)justice and the search for basic human rights. The film tells the stories of three young, highly educated people from Bosnia and Herzegovina who, despite their different backgrounds, find themselves on the same road. This road, unfortunately, takes them far from their home country which didn't give them a chance to realize their full potential.
This story celebrates a man by remembering the fragments of past times unimaginable to new generations. It is also a love story of Marin and Nike who live their modest but happy lives on the island away from the bustle of modern Croatia. The story deals with the forgotten hero of the past, Marin Radul, who was known in the communist Yugoslavia as the "Titan from the island Mljet". With his own hands, and assisted by his wife Nike, Marin dug through a 96-meter-long rock in order to create agricultural land. The intention of this film is to connect the thoughts of people from the past (20th century) with today's time – the one that Marin and Nike could only dream of. It is also a message to new generations to appreciate work and believe in man's strength, instead of surrendering to hopelessness of nihilism.