AJB DOC 2019 ONLINE
Most of the documentaries shown at the AJB DOC Festival 2019 were also broadcasted in the Al Jazeera Balkans program and now are available on online platforms in the Balkans region. To view the films click on the title.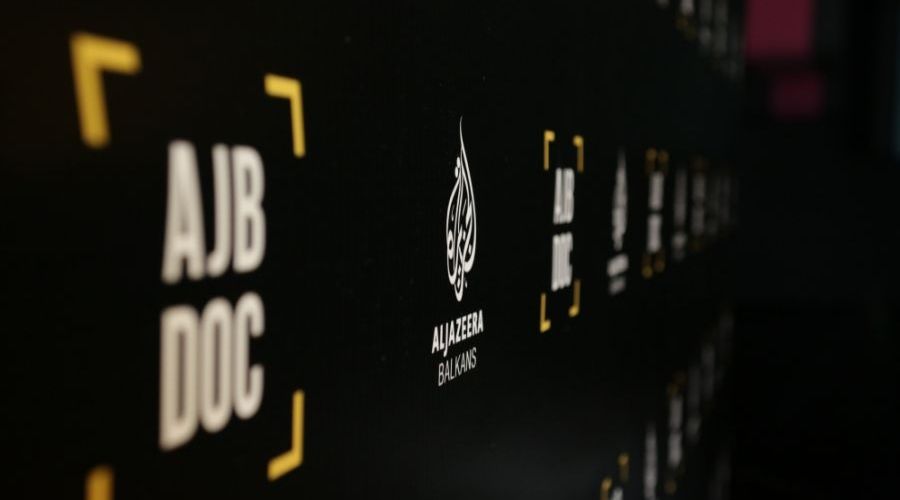 COMPETITION PROGRAMME
This year's AJB DOC Film Festival carries the slogan of Change, underlying the necessity of change as an intrinsic part of the development of human consciousness. A real change can only happen from within, as the individual, by changing himself, may incite a change in the entire society. Thus, through documentaries in the Competition Programme the viewers will have the opportunity to witness changes incited by the main protagonists.
Film follows the revolutionary rise of the "citizen investigative journalist" collective known as Bellingcat, a group of online researchers dedicated to exposing the truth of impenetrable news stories from around the world – from the MH17 disaster to the Syrian Civil War to the mysterious poisoning of a Russian spy in the United Kingdom.
From his Leicester home, de facto leader Eliot and his team of truth-seekers put newspapers, networks and governments to the test.
This is an intimate, character-driven tale of global impact, about personal consequences of the systemic violation of human rights in the international adoption system, portrayed through the eyes of a teenage girl and her personal fight for justice.
With over five years of recordings, we follow the Ethiopian girl, Amy, in a paramount period of her life, from the age of 13 to 18. Amy left her mother and two sisters in Ethiopia when she was nine, and was declared fit to be adopted by a Danish family. Amy never adjusted to Denmark, her Danish family, and Danish culture, but instead felt a deep longing and grief due to the loss of her family, language and culture.
Girl in Return follows Amy's fight against Danish and Ethiopian authorities and her struggle to repeal her adoption, in order to fulfill her deepest wish: recreate the family bond, which was being destroyed from one day to another, after she was adopted at the age of nine.
It's 1992 and the first free elections held in Estonia since the World War II have, to the surprise of all, brought to power young and idealistic political forces. They are led by 32-year-old Mart Laar, Europe's youngest prime minister, who is charged with crafting a country out of chaos.
This is a story about gaining and losing trust, about the widening conflict between idealists and a rising economic elite, when a prime minister's good options grow fewer by the day. A story of idealists and friends becoming politicians and opponents.
We all have received e-mails from strangers announcing that you have won the lottery or that an attractive woman would like to chat with you … But who are the people that are trying to deceive us? What human stories lie behind this phenomenon of internet fraud?
In Ghana, there is a high rate of youth unemployment. This has led young men and women to practice internet fraud, with the help of animism/voodoo to earn a living. Sakawa is the name given to this practice. Sakawa is a film about a new generation in Africa dealing with a digital world in their very own way.
Ama is a young mother and a newcomer on the scamming scene. OneDollar tries to save the money he earns to travel to Italy. Francis, the most experienced of them all, teaches the youngsters the tricks of the trade. These stories are intertwined with the path of the E-Waste. What starts as Western waste dumped in Ghana, ends up as the medium for the Ghanaian youth to make money.
Don is a photographer who lives in Kenyan slum of Kibera and tries to capture better aspects of his home in his photos. The film is based on his narration, in which he presents a varied mix of people with strong will and a desire to face an unfriendly destiny and inhospitable environment.
For example, HIV-infected teacher Benta who has set up a nursery for children coming from HIV-positive families or former boxer Tunker, who teaches children self-defense in his boxing school.
The film by Czech director Martin Páv brings to light a unique atmosphere of this poverty-stricken district, even when it is troubled by the dramatic events associated with the presidential election.
LAST MINUTE CINEMA PROGRAMME
You will be able to feel the strength and power of individual voice, see how we can and must change ourselves, but also recognize the importance of activism, hard work and perseverance in trying to shed light on the truths that need to be socially recognized and acknowledged.
Danish director Mads Brügger and Swedish private investigator Göran Björkdahl are trying to solve the mysterious death of Dag Hammarskjöld. As their investigation closes in, they discover a crime far worse than killing the Secretary-General of the United Nations.
In 2015, after Hassan Fazili's documentary Peace aired on Afghan national television, the Taliban assassinated the film's main subject and put a price on Hassan's head. Hassan looked at his wife and his daughters, and he knew they had to flee their home.
Over the course of their multiyear saga in search of safety, the family grasped onto the only means they had to assert control over their situation: their camera-phones. The whole family shot this autobiographical film, which began when they sought and were rejected for refugee protection and follows them along the notorious Balkan smuggling route.
Nadia Murad, a 23-year-old Yazidi woman, survived genocide and sexual slavery committed by ISIS. Repeating her story to the world, this ordinary girl finds herself thrust onto the international stage as the voice of her people. Away from the podium, she must navigate bureaucracy, fame and people's good intentions.
In the early 90's, the new-born state of Croatia was involved in a military conflict with neighbouring Serbia. Criminals used the chaos of war to harass and rob Serbian civilians living in Croatia. One of the innocent victims was a girl living in Zagreb, Aleksandra Zec. She was brutally murdered, alongside her family who were of Serbian descent. The perpetrators were soon found, but because of political pressure no one has ever been convicted for the crime.
A quarter-century later, controversial theatre director Oliver Frljić is working on a play about the case. The process brings out the hidden traumas, rehearsals become a collective psychotherapy, and the 12-year old actress Nina feels as if the war never ended. When director asks her to profess as Serbian in front of the audience, Nina is terrified and does not know what to do.
AJB SCREENING PROGRAMME
Thanks to our filmmakers, in this 'creative treatment of reality', as John Grierson called it a long time ago, we present seemingly ordinary people and completely extraordinary stories.
The film Light-footed follows the life story of Fahrudin Kučuk, who experienced the happiest and worst of times in his native Sarajevo. On 2nd May 1992, his life took a completely different turn and got a new meaning.
Light-footed symbolizes Fahrudin's heroine daughter, who largely shaped his future life and work. Through his creative work, Fahrudin is trying to make all the children of the world happy and to protect their rights, the basic one being the right to life.
Jasmin Džemiđić is the first sit-down comedian in the region and an activist for the rights of persons with disabilities. Through his work, he tries to reduce barriers that people with disabilities face in their everyday lives – the biggest ones being in the minds of others. For his first appearance on the stage, he managed to climb a stair. But, in his fight against prejudice, he managed to achieve a lot more. He turned everything that was happening to him into a joke, all the while trying to learn a lesson from the not so funny life-situations.
With his jokes, which are based on his own experience, Jasmin tries to break the taboos. His wish is not only to make the audience laugh, but to get them thinking about the problem of injustice and discrimination, which is not related only with persons with disabilities. With his performances, he tries to draw attention to the essential things that are painful to him, as a citizen of Bosnia and Herzegovina. From the moment he began to do sit-down comedy, he noticed that things in his life started to go downhill, which was a positive thing in his case. His greatest success is that people no longer stare at his wheels, but look him in the eyes.
Former mountaineering partners, who were conquering European and world peaks until the end of the '80s, Muhamed Gafić (70) and Željko Rudan (63), are preparing for what could be their toughest climb ever. Above them is the top of the Babin zub, the mountain they had climbed so many time. But beneath them is the burden of the past - war and suffering. Roped together, Muhamed and Željko talk about war and confidence, while climbing.