"The Long Shot" in Konjic
In the amphiteather of the Cultural Center in Konjic the story of national basketball team was presented.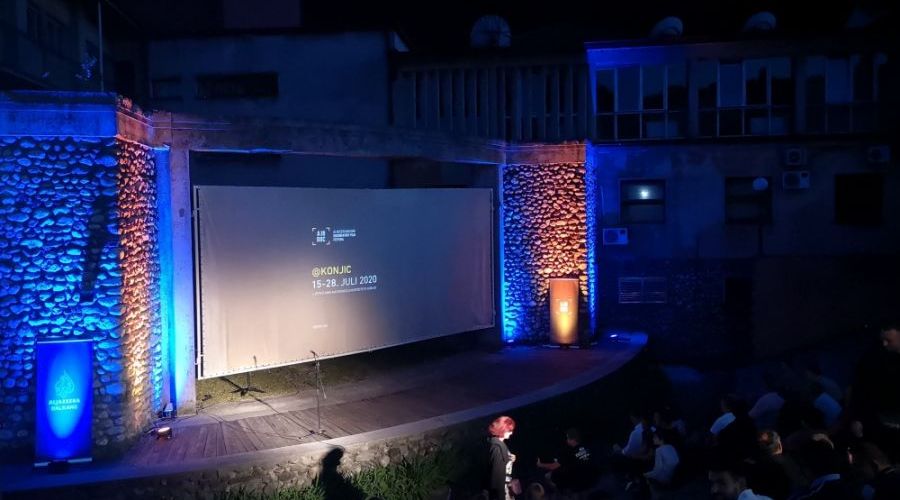 The Long Shot, a documentary by Alvaro Gonzalez Aller and Oliver Valente, about players of the national basketball team of Bosnia and Herzegovina in the besieged Sarajevo in 1993 and their participation in the European Basketball Championships in Germany, was screened last night in the amphitheatre of the Cultural Center Narodni Univerzitet Konjic in Konjic.
The screening was held in line with the epidemiological measures and it was attended by around a hundred documentary lovers. This emotional story about the national basketball team of BiH, and their historic eighth place in the European Championships, was awarded by a warm round applause.
The screening of the film The Long Shot opened the special programme of the Al Jazeera Balkans Documentary Film Festival (AJB DOC) in Konjic, which will be held from 15th to 28th July 2020, in cooperation with the Cultural Center Narodni Univerzitet Konjic. Five documentaries from the second edition of the AJB DOC Festival, which was held in Sarajevo in September last year, will be screened as a part of that cooperation.
AJB DOC@Konjic is the first guest appearance of AJB DOC. In addition to the awarded documentary The Long Shot, the audience in Konjic will also have an opportunity to watch Bulgarian Dream, Go game, Ask freely and Little Star Rising.
In their statement for the media, the organizers of the AJB DOC Film Festival expressed their satisfaction with the cooperation and reactions of the Konjic audience, emphasizing that one of the missions of their festival is to get closer to the audience, even in these challenging times of the global pandemic. They also said that they hoped to have the opportunity to screen festival films in as many cities in the region as possible.
The director of the Cultural Center, Benjamin Mušinović, is also satisfied with what has been achieved. According to him, all the great life stories brought by the AJB DOC Film Festival have a fundamental mission to present reality as it is, portray lives and bring to light the problems the world refuses to solve. What is more important, the documentary filmmakers have a mission "to give voice to the voiceless and enable them to go on air".