Extended deadline for submission at Al Jazeera Documentary Industry Days @ AJB DOC
Al Jazeera Documentary and AJB DOC Film Festival are extending the deadline until 15th July, for submitting your project at "Al Jazeera Documentary Industry Days @ AJB DOC" that will take place in Sarajevo, Bosnia and Herzegovina, from 9th until 13th September 2022.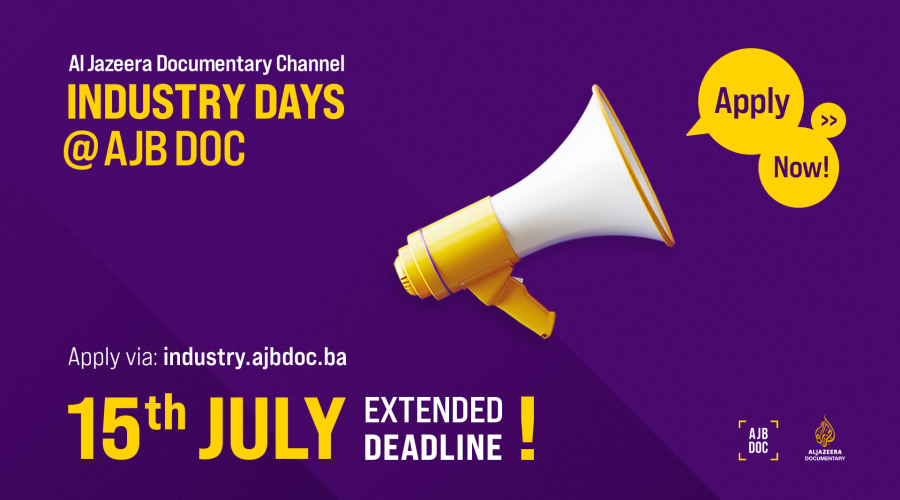 This event intends to support the expansion of documentaries worldwide, including international co-productions, and introduce exciting and valuable projects to key decision-makers.
It will provide documentary filmmakers from the SEE, Caucasus, and MENA region with an opportunity to network with decision-makers and leading professionals from both regional and international film and TV industries. We aspire to help them secure funding for documentary production and support for their broadcast, distribution, screening, and sales worldwide.
The three-day event will be divided into:
MAIN PITCH – ACCEPTING ALL STAGES OF PROJECT DEVELOPMENT
WORK IN PROGRESS – PROJECTS THAT ARE IN POST-PRODUCTION
BALKAN STAR – THE DEVELOPMENT STAGE
Key submission dates:
Entry form available: April 1st
Extended deadline: July 15th
AJD Industry Days @ AJB DOC plans to organize three-day meetings with authors of various projects. After initial presentations, the event will culminate in one-to-one meetings.
The overall prize money in cash for the awards across all sections will amount to more than USD 60,000, and other non-cash and sponsor awards will be announced prior to the AJB DOC Festival.
Update: Call for project submission is closed.