Documentary film Scenes from the Life of BiH Film will open AJB DOC@KONJIC programme
Al Jazeera Balkans Documentary Film Festival (AJB DOC), in cooperation with the Cultural Centre – National University Konjic, will make a guest appearance in that town on 8th and 9th August within the "Konjic Cultural Summer 2022" manifestation.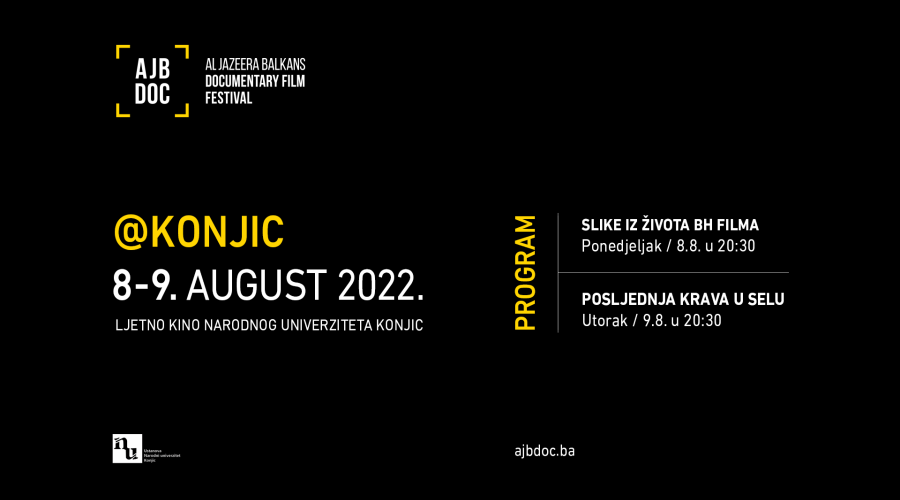 This year the audience in Herzegovina will have an opportunity to watch two BiH films which had their premiere during the last-year's Fourth AJB DOC Film Festival.
Scenes from the Life of BiH Film by Mustafa Mustafić, filmmaker and cinematographer, will open this year's AJB DOC@Konjic programme. The film focuses on the history of BiH cinematography and shows how important documentary and feature films were in the development of comprehensive culture in Bosnia and Herzegovina.
Film Last Cow in the Village, a graduation debut of a young director Kenan Kulenović, will be screened on the second evening. The film shows a passage of time through the main protagonist's subjective view on life and presents a synthesis of the man and nature.
The films will be screened at 8:30 p.m.
For more information on AJB DOC Film Festival in Konjic, visit the Festival's and organizer's social media.