Jury of the Fifth AJB DOC Film Festival presented
The five-member jury will select the best film of the AJB DOC Festival Competition Programme and award the AJB DOC Main Award.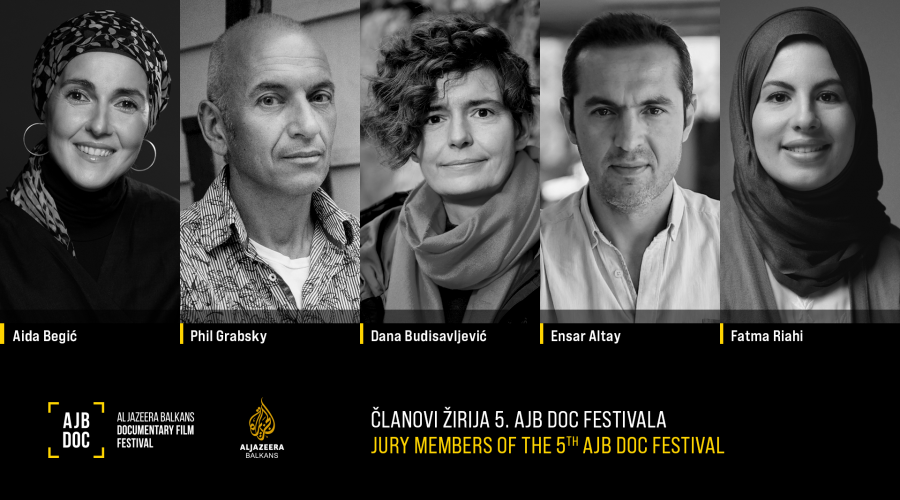 Aida Begić, Dana Budisavljević, Fatma Riahi, Phil Grabsky and Ensar Altay are the members of the international jury of the fifth edition of AJB DOC Film Festival, which will be held in Sarajevo from September 9th to 13th.
The five-member jury will select the best film of the AJB DOC Festival Competition Programme and award the AJB DOC Main Award.
Aida Begić graduated in Multimedia Directing at the Academy of Performing Arts Sarajevo. Her graduation film First Death Experience / Prvo smrtno iskustvo was presented in Cinéfondation Selection at the Cannes Film Festival. Her debut feature film Snow / Snijeg won the Grand Prix Award in Semaine de la Critique at the Cannes Film Festival. The Snow was nominated for a European Film Academy Award, Discovery Section.
Her 2nd feature film Children of Sarajevo / Djeca premiered at the Cannes Film Festival, in the Un Certain Regard selection, where it won Special Distinction of the Jury.
She wrote and directed the short film Album, as part of the omnibus Bridges of Sarajevo / Mostovi Sarajeva, which premiered in the Official Selection of the Cannes Film Festival. Her feature film Never leave me / Ne ostavljaj me has been screened and awarded at many festivals around the world.
In 2022, she finished her fourth feature film A Ballad / Balada.
Aida Begić is a tenured professor at The Academy of Performing Arts Sarajevo. She is a member of AMPAS, EFA, SACD and UFRBiH.
Dana Budisavljević was born in 1975 in Zagreb. She works as director and producer. She cofounded Hulahop Production Company and has been its director since 2006.
She graduated film and TV editing and during her studies she organized first student film festival named F.R.K.A. Later she was closely involved in the organization of the Motovun Film Festival, in 2005 she launched ZagrebDox with Nenad Puhovski and for several years after 2007 she was production adviser at the World Festival of Animated Film – Animafest Zagreb.
She received her first film award for best editing in The Years of Rust /Godine hrđe, a film by Andrej Korovljev. With her directorial debut Straight A's! /Sve 5!, she won the Grand Prix at the same festival. Her film Family Meals /Nije ti život pjesma Havaja won the audience award at ZagrebDox.
Dana's first feature film The Diary of Diana B /Dnevnik Diane Budisavljević, a multi-award-winning historical documentary drama about saving children from NDH camps during World War II, became one of the most important and talked about films of the last decade in Croatia and the region.
Fatma Riahi studied cinema and television technologies in Tunisia. Her first short film, Mashghoul [Busy], was her graduation project in 2008. She worked as a producer/director on short documentaries in Tunisia. In 2011, Fatma made a mid-length TV documentary, Tunisia... The Revolution Continues, which was about the Tunisian revolution. In the same year, she joined Al Jazeera Media Network as a producer in the Production Department. In 2015, she started working on her first feature film, A Haunted Past, which was nominated in IDFA 2018 for the first appearance competition. It was also viewed in the special selection in Hot Docs 2019, RIDM 2019, COSTARICA Festival International de Cine 2019 and the Durban International Film Festival. A Haunted Past won ANHAR Award for the best human rights film 2019 at KARAMA Film Festival – Amman and The Bronze Tanit in JCC (Carthage Film Festival) 2019. Fatma is working now on her second long feature: My Father Killed Bourguiba.
Phil Grabsky is a BAFTA-winning British documentary filmmaker who has received multiple awards for his directing, writing, producing and cinematography.
He and his company Seventh Art Productions are behind cinema films such as Muhammad Ali - Through the Eyes of the World, In Search of Beethoven, In Search of Mozart and the landmark My Childhood, My Country – 20 Years in Afghanistan, which won Best Single Documentary at the 2022 Television BAFTAs. He has made over 250 films which have played in cinemas and on TV and digital platforms worldwide.
Phil has also written four history books, including The Great Artists – co-authored with Tim Marlow – and the best-seller The Great Commanders. He is regularly involved as a judge for the Emmys, BAFTAs, Grierson and One World awards, and has won numerous personal awards himself including Royal Television Society awards for both Best Director and Services to Television, and a Voice of the Listener and Viewer Award for Services to Education.
Ensar Altay was born in Erzurum, Turkey and studied London Film Academy. He made television documentaries in various countries for TV channels between 2012 - 2018. His process of concentrating on documentary cinema started with the film Guardian of Angels in 2018. The documentary tells the story of Muhammed Bzeek who takes terminally ill children as a foster father, participated many national and international festivals and received several awards in various categories. The documentary named Kodokushi (2020), tells the story of lonely deaths in Japan and had national premiere at 8th Bosphorus Film Festival's Main Competition. It took The Special Jury Award in the international category. Having its international premiere at Shanghai Film Festival, Kodokushi was nominated for the Golden Goblet. The film also participated in several festivals such as Camerimage, Jerusalem Cinematheque, Astra, Cinema Verité. He is currently working on his debut feature film.
All competing films enter the competition for the award of the Al Jazeera Balkans program jury, which awards the "AJB Program Award".
Also, all films screened at the AJB DOC Film Festival enter the competition for the Audience Award.
The total value of the prizes is 12,000 euros.